Screw Matt Damon, check out CrapHazzard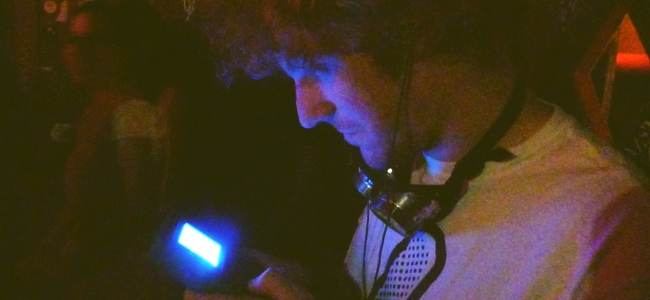 The bar was hidden, the beer was cheap, and the special effects weren't even planned on, but the crowd was hot and the music did not disappoint. The Incorporated Village of Ghost may have been presenting Matt Damon's Birthday Bash this October 8th, but everyone would rather hear local chiptune artist Pat "CrapHazzard" Koch perform.
From the way Craphazzard got people's attention., you wouldn't imagine this was his first gig. Nonchalantly approaching his table while people were still talking about the previous act, Pat began "tuning up" his percussion sets, at which people's heads turned and they began to probe his rig. "You're kidding me." "Look at that, it's a GameBoy!" Three of them in fact; various colors of "Play It Loud" with LSDJ and backlight mods (including the latest V³ Triple LED Backlight).

CrapHazzard, a man of few words, kicked things off with a cover of 6955′s "One" (a live version seen above); the deep intonations and ambient noise with a chirping ditty entering two minutes in kept the crowd swaying at a relaxed pace another four. It got a rousing ovation and introduced anyone who didn't know to what chiptunes was.
Having broken the ice, CrapHazzard brought out an original composition, a moody piece sounded akin to something out of Castlevania, with a brooding saw-tooth of strings that was mixed with spaced-out percussion. Two minutes in, a warbling trill transitioned to a faster set of beats that got a rise out of people. On that cue, the FX manager saw it as a prime opportunity to spin the lights and the crowd joined in the spontaneity. Pat made use of all four GB channels, keeping the pace while splicing previous instruments as well as adding in e-guitar riffs before fading out to static. He wasn't done after four minutes either, deftly segueing into his next track using his mixer before the static completely faded. (Pat said in this instance he wasn't going to experiment with syncing his systems yet.)
A cascade of noise rained down as the fog machine came alive and people started to whoop it up. A good mix of rhythmic thumps and complex melodic trills that had people hooked on every riff, chord, pulse, and break. Booming applause happened whenever CrapHazzard paused while jumping from Gameboy to Gameboy. For his third premier piece, CrapHazzard had a more acidic, asymmetrical noise that would get drowned out by a roaring engine. It was very impressive. Ten minutes in and still pumping, he continued with a 2-minute blaring brass accompanied with a beeping march that the gathering synced their clapping to.
Unfortunately, when CrapHazzard ended on that note, the hooked crowd clamored for more. Right then. Right there. On the spot. It took a minute of shouting his name before he loaded a semi-completed piece to play. Snares exploded and soon a complex series of beats, strums and keys. Pat had to add to his project as people were dancing and rejoicing, slowing and speeding the pace as he juggled all his virtual instruments for four more minutes, and another four more minutes. Any cheers he got was met with twiddling thumbs as CrapHazzard was busy getting his next sequence live: a warp-speed Konami-esque tune with clappers, metallic lutes, and a fog horn that became a rocking eastern-shamisen/bassoon-reed mix. Finally, after half an hour of chiptunes, his newfound fans finally let CrapHazzard have his beer.
Thanks to IVOG and Tommy's Tavern for hosting.
Follow Pat "CrapHazzard" at his Twitter.
To find out more about Jason "6955″ Degroot, check out his latesst project: FEZ from the Polytron Corporation.