Thursday Pics from Inaugural 8static Festival!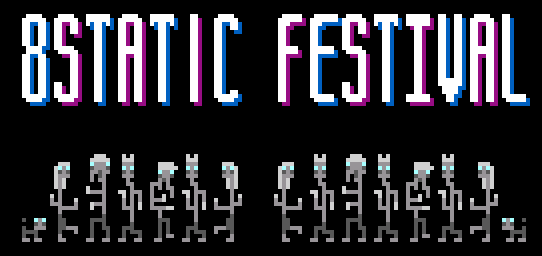 Team Falsebit travels to central Philadelphia for the first ever 8static Festival – check out the official animated 8static banner celebrating five years of musical madness! 8static has assembled a plethora of performers for three consecutive nights of song and dance at Philly's First Unitarian Church — now the First Church of Chiptune!
Ugly Machine, extabit, ffm83, and frojoe were all on hand to witness Animal Style, Radionarcotix, CHiKA, and Batsly Adams create awesome sights for sets by DJ Cutman, SKGB, Ro-Bear, Corset Lore, adamgetsawesome, an0va, Bit Shifter, Disasterpeace, rainbowdragoneyes, and A_rival … and that was just on day 1!
Slated to appear over the rest of the weekend: Decktonic, [XC3N], Alex Mauer, Br1ght Pr1mate, Baron Knoxburry, exileFaker, NULLSLEEP, Chipocrite, Cheap Dinosaurs (Animal Style is 8static!), Radlib, SSD Engage, Danimal Cannon, Bubblyfish, Void Vision, Trey Frey, Glomag, Saskrotch, Knife City, Chibi-Tech,  diy_destruction, NO CARRIER, emul8, and futurestack. (Add Wet Mango, minusbaby, Dauragon C. Mikado, and Ricky Brugal if you're staying on Sunday.)