Kill Screen at MoMA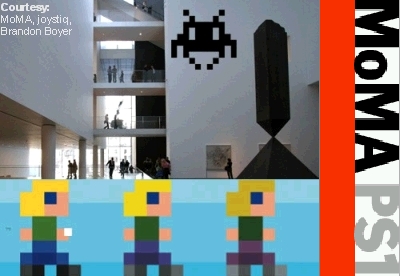 The PopRally program of the Museum of Modern Art hosts Arcade, an interactive evening of beats and games selected by magazine Kill Screen and inspired by the exhibition Talk to Me. Guests can play games throughout the Museum and the Sculpture Garden, including Bit Trip Beat, Canabalt, Limbo, and a new motion-based Kinect project from Ryan Challinor and Matt Boch of Harmonix (Rock Band). Heathered Pearls (Ghostly International, ISO50) will provide the evening's soundtrack.
The $20 admission fee ($16 in advance) covers an exclusive exhibition viewing, a cocktail reception, a tote bag (custom bags are in limited supply), and an evening of gaming! Reserve your ticket for Arcade and other upcoming PopRally events at MoMA. (You must be twenty-one or older to attend this event.)
Talk to Me focuses on interactive design objects and on projects that establish an emotional, sensual, or intellectual connection with their users.
Kill Screen is an arts and culture company committed to advancing the cultural dialogue about games and the gaming dialogue about culture. Kill Screen produces physical and digital editorial while manufacturing games, events, and intelligence.