Axel F by 8bitpeoples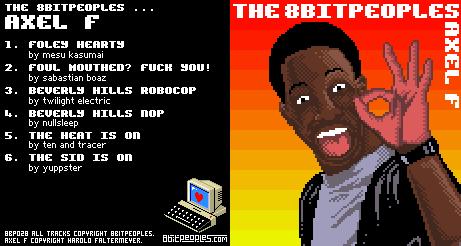 Read the intro they wrote for it!
(Quoted from http://www.8bitpeoples.com/discography?page=8)
It started as a joke but in the end it just seemed too ridiculously appropriate, and here it is. Six very different takes on the classic theme ranging from Mesu Kasumai's detroit electro throwdown, Sabastian Boaz's maniacal casio n' bass frenzy and Twilight Electric's honest and innocent synthpop mix, to Nullsleep's pure nintendo love, Ten and Tracer's hauntingly melancholic surprise and Yuppster's pumping SID attack, it is undoubtedly an essential collection.
Download it and enjoy!
So Beverly Hills Cop came on TV, and it reminded me of the old remix album, Axel F, that 8bitpeoples did, but I had totally forgotten what it was like. I scanned through the discography, found, it and it turned out to be both not as good as I remembered, and somewhat better as well! Here's my track-by-track breakdown:
1. Foley Hearty by Mesu Kasumai
Bumpin', bouncin', but not a big trek away from the original track. It's nice, keeps the chill atmosphere the original creates, and you could almost dance to it! However, there's nothin' to really make you remember it, as it just stuck too close to the original. I'd sooner tune that in than listen to this, but it's a good effort and a solid mix.
2. Foul Mouthed? … by Sebastian Boaz
Don't mean to be harsh, but this track managed to turn me off within the first 20 seconds. I know he's trying to be silly, but I'm tryin' to JAM here! And while it's nice to see that he took the track in his own direction, he corrupted the classic hook and made it too long, and just plain annoying. It lost me at first and never managed to even come close to pulling me back in.
3. Beverly Hills Robocop by Twilight Electric
And this track makes up for the last two easily. It's not exactly a masterpiece, but it's quite enjoyable, bleepin' and bloopin' its way into my heart. It sticks well to the original but sounds different enough to catch your attention; it's just plain groovy! The percussion is what really makes this track stand out and jam.
4. Beverly HIlls NOP by Nullsleep
Oh shit it's the Nullsleep track, and as expected it's awesome. I may be biased, but I do enjoy the chipped tunes of the NES variety. It's a well made mix that sounds good too and it makes great use of the format. One thing I will note here is that he added an echo to parts of it, and that just tickled me because I found that an echo can really make NES tracks sound…better. I don't know how else to describe it, but when I ripped a few Mega Man 2 tracks, they just sounded kinda flat, but I slapped an echo on there and WOAH I was suddenly rockin' pretty hard!
5. The Heat is On by Ten and Tracer
This is by far the best track in the collection. He didn't so much take the theme in a direction as he made a great song around it. It's slow, funky, and totes groovin'; I can see myself listening to this months from now. It deviates the furthest from the original the most of any other track in the mix, and that apparently is a good thing. Gives me kind of an Earthbound vibe.
6. The Sid is On by Yuppster
Once again this is some tight-ass chipped tunes, this time of the (obviously) SID variety. I'm listening to it right now and I am rocking the fuck out. Well made and hella fun, a great track to end the mix. When it's over, I miss it already, then I press play again. :3
It starts out meh, gets bad, then gets very, very good and keeps going in that direction. Get it now and get your 80's on, just try to keep happy Eddie Murhpy thoughts in your head and forget that he even has a career anymore.
-ABIB