ARMAGEDDONWAVE! — Pulsewave December 2012
The end of the world comes in under one week… What is a human to do, but to party out in chiptune fever!?
At the Tada! Theater on December 15th of the Last Year on Earth, Pulsewave was held featuring three apocalyptically-cool artists: Kedromelon, Trey Frey, and Bit.Shifter. Visuals for the show were provided by Jeff "Notendo" Donaldson. Doors to the theater were open at 8:00 PM, drinks were sold, and choose-your-ingredient tacos were offered to the guests for free!
Though the website of Pulsewave had invited visitors to dress up or cosplay appropriately to theme of the upcoming Armageddon, unfortunately only two Pulsewave hosts were dressed for the occasion. Oh well – that didn't stop the party from rocking by any means! (but it would have been nice to see…)
Open Mic:
The open mic of Armageddonwave was rather short, with only four artists playing in it:
One ROM: Played a tribute to the Dark Knight movie series. It sounded almost exactly like the action scene themes composed by Hans Zimmer and James Newton Howard, and it was a fittingly foreboding start to the party of the End!
Tony Ness: The Armageddon had made this poor fellow lose his girlfriend, and so he became the leader of "The Resistance". He composed a song, Valentine, in memory of her, which had a heavy beat and was sung like a rap.
Drum Machine Dating Service: Played on a real piano, in the middle of an electronic atmosphere! Her song was my favorite of them all – the atmospheric music felt very ethereal, as if I was entering another dimension. The piano was subtle behind this atmosphere, and its accompanying atmosphere built up in complexity as the song progressed.
A vs. B: His song was called Blue Waffle, which was apparently about, um, exactly that. It featured varying distorted beats, which some on the stage danced to.
After the open mic, a quick break was called for everyone to buy drinks. And then, Kedromelon walked on stage…
Kedromelon:
Website: http://kedromelon.com
SoundCloud: https://soundcloud.com/kedromelon
Kedromelon introduced himself quickly, and got into his music right away! Immediately, he began with a fast rave beat, which the people on stage were quick to follow. Jumping was rampant throughout the floor. After this was a song that was much more heavy on the bass; along with the stage floor, my insides vibrated with its beat.
Random pauses were interspersed within these tunes, creating several breaks in the action. Kedromelon seemed to be a fan of heavy waves in some of his songs, and heavy drums in most of them; with the heaviness of his sounds, however, also came a great feeling of happiness! You could feel optimism even in this celebration of the coming darkness…
Kedromelon's last tune was fun and energetic! It closed his segment well on a high note.
Trey Frey: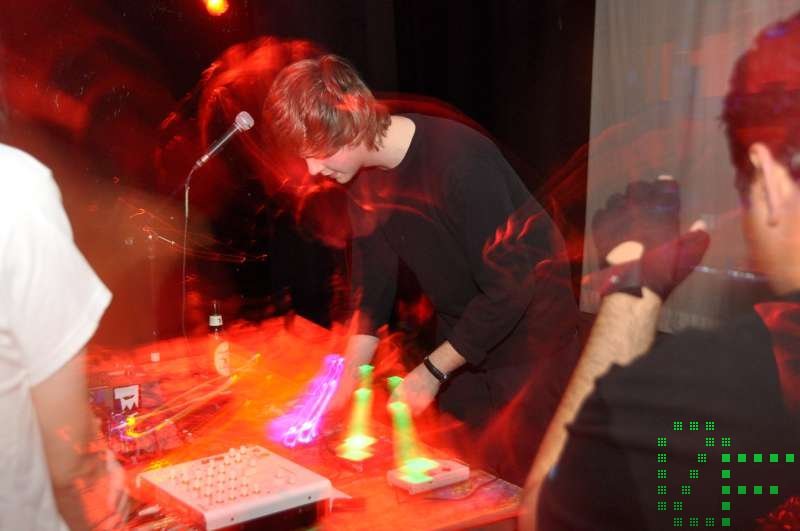 Website: http://www.treyfrey.net
SoundCloud: https://soundcloud.com/treyfrey
Beginning his part with a sawtoothy wave, Trey Frey ran with a drum beat that was lighter than Kedromelon's, and rapid. It felt like the music to a fast-running scene; like a great chase.
And then it ramped up! Holy crap.
The entire stage burst into movement, and rocked out to the rest of the song. His second song opened with a slower, atmospheric beginning; a prelude of sorts. It then gained a beat and also ramped up, though not as fast-paced as his first song was. Still, it was something to jump like a maniac to – it transitioned frequently between the atmospheric and fast-paced parts. Trey Frey seemed to like playing with these two parts, incorporating them as part of a background to continuing sections of the same song.
At the end, he apparently lost a song from his cartridge that he had planned to play for us… While the audience booed at this, it was only out of disappointment that he could end so anticlimactically. He didn't, and so he improvised; it ended fairly well, and it was certainly his style! The theater quaked to the music and the dances.
Bit.Shifter:
Website: http://bit.shifter.net
SoundCloud: https://soundcloud.com/bit-shifter
Before Bit.Shifter's segment started, the Pulsewave crew announced that there would be a certain … sacrifice, that would have to be done. To appease the forces that were coming to eat the world, so at least chiptunes would be spared from the End… Or so I'm guessing!
It was revealed that Emily – one of the costuming Pulsewave hosts – would be the sacrifice! And so she was taken to the back… Screams were heard, the whole stage shrunk back in horror (and laughter), and eventually … it stopped. There were no sounds left.
…And she returns to the stage with the others! Do not fear; her body is healthy. Only her soul had to be ripped and given to the God of Chiptunes.
Back to the performance: Bit.Shifter arrived, and was welcomed by the hosts to this Pulsewave, it being his very first time here! He began with a variation of one of his songs, remade a little bit to keep in theme with the End of the World.
Out of the three artists' segments, Bit.Shifter's felt like a story that was being told. A story about the End; his first song started with a foreboding atmosphere, with long, drawn-out deep waves. Suddenly, it then transformed into a dance of death! The great darkness has finally arrived … it is the beginning of the apocalyptic battle…
If I was to describe Bit.Shifter's dance of death, I would almost think I was witnessing the final battle of a RPG.
The dance of death grew heavier, stronger, intensifying the battle. After this, his second song was much calmer, beginning with a melodic atmosphere and progressing into something greater. This theme was different – I felt as if I was traveling down a dark corridor, perhaps exploring… Preparing myself for something at the end … and searching for something important. The third song immediately rose into something more rapid. I was chasing something. I wanted to reach it; what exactly I wanted to reach is something I wasn't sure of, but I wanted it so badly!
I must've reached it, because soon afterward the song turned into something happier. Like a victory theme! I had reached my goal … defeated the evil … and saved the world. This string of themes was something that I think only calling it "awesome!" would be downplaying it. For me, at least, Bit.Shifter stole the show tonight!
For his last two songs before departing the stage and concluding Pulsewave, Bit.Shifter played two covers: the songs "Under the Milky Way" and "Earth Died Screaming".
Photos taken by pixel.